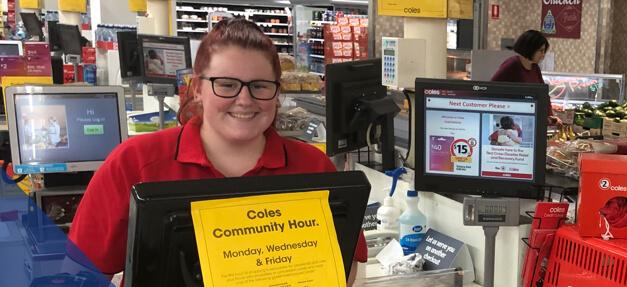 Testimonials
200,000 retail workers can't be wrong. See what SDA members are saying about us.
Dear Gerard,
I was delighted to receive a text book voucher for $100 in the mail today. This will be a great help to me in my studies.
Thanks very much! It's a great scheme.
Yours Faithfully,
Dear Gerard,
Having just received our settlements from Big W, on behalf of Miles Anderson and myself, I would like to thank the SDA for their efforts in securing resolution to what has been a rather lengthy ordeal. We appreciate your decision to act on our claim and see it as casting a positive light on a Union willing to advocate strongly for its members.
I would also like to take this opportunity to ask you to pass on our gratitude to [SDA Organiser] Mark O'Connor whose initial and continued interest in our case ensured that the ball got rolling and kept rolling!
Last but not least, we would also like to mention [SDA Industrial Officer] Phil Walker. His thorough manner in preparing our statements and his negotiations on our behalf with Big W achieved their desired result which is a testament to his hard work and professionalism.
Once again, we applaud the SDA on its efforts and though it is never good to have to enter into a protracted dispute with one's employer, it is certainly reassuring to know that the Union supports its members in need.
Yours Sincerely,
Stuart Allison & Miles Anderson
How we helped
Much of the activity undertaken by SDA Organisers and Industrial staff attracts little attention, in most cases, because of the need to preserve confidentiality.
To illustrate how we can help our members, in a recent case, a member reported his dismissal from work which he believed was unfair.
In this example, it is not the details of the case that are important, it is the process that was followed.
The member was seeking reinstatement and financial compensation for the period between dismissal and reinstatement.
Establishing the facts
The Organiser investigated and evaluated relevant facts pertaining to this claim. After this process, which included reference to legal advice, the SDA determined that the allegations by the member did indeed have industrial merit and, therefore, filed the case on the member's behalf.
Legal support
As many will know, the legal system can be complicated, and a minefield of legal technicalities awaits applicants. Considerable time and effort is given to ensure that SDA members have the best possible support. In this case, outside legal support was brought in.
There were two separate and independent hearings. The first was adjudicated by a Workers' Compensation Commissioner, which related to the financial compensation for the period of termination. After a hearing that lasted for about four hours, the Commissioner found in favour of the SDA member and financial compensation was awarded.
The second hearing was referred to a State Court to determine whether reinstatement could be ordered. In this case, the SDA engaged a barrister to present the case (the company was also represented by a barrister).
Prior to this second hearing, the company decided that the member should be reinstated, thus avoiding the need to go to a full hearing.
A great result through lots of work
This was a very good outcome for the member but, importantly, it demonstrates that your Union will fight doggedly for your rights at work.
Many hours of work went into this case. Win, lose or draw, the SDA is always prepared to do whatever is necessary to get resolutions for members who have not received a fair go in the workplace. So the next time you hear someone ask "What does the Union do for me?" please remember that the Union is always out there working behind the scenes, working for you.